Alaiyo provides greeting cards and other personalized gift images for individuals and businesses. If you don't see a printed image here, all on this site are available. Please contact me via email to arrange for a selected image. All items are reproductions from original paintings custom printed. Items can be purchased through credit card or Paypal.
__________________________________________________________________________________________________________________
Matted Prints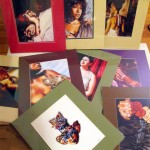 All giclée prints are reproductions of original drawings and paintings. Prints are available for images below. Your prints will automatically be sent with a white mat. Mats also come in various custom colors as seen below. (Please indicate the color of the mat if you want it changed in the box where you make special requests when finalizing the purchase through PayPal). Each matted print is shrink-wrapped. The overall size is 11"x14"  for both vertical and horizontal formats. Matted prints are $35.00 per item.

Metropolitan Jr. Baseball League exposes minority youths to the sport of baseball. They travel to various cities to compete, learn about the rich history of the locations and the offerings of the local black colleges who hosts the events which includes symposiums made up of professional players, scouts, coaches, commentators, college administrators and more. All giving the kids a valuable educational experience. The goal is to bring baseball back to the inner city. See examples of Alaiyo's illustrations created over the years for their events below. Become a proud supporter of the organization.
All money raised from selling the prints goes directly to MJBL.
The cost of the MJBL matted prints are reduced to only $30.00 including shipping and handling.
We appreciate your contribution. Enjoy the prints!
First Black World Series

Extinction

Legends

Celebrating MJBL

MJBL at the Diamond

The Pitcher

Continuing the Legacy

MJBL goes to Greensborough

MJBL in Orlando

No Trespassing
Prints are also available for images below
| | | | |
| --- | --- | --- | --- |
| Reflection | Quiet | Portait | Love Petals |
| Love Petals 2 | MLK | Masks | Azalea |
| Flowering | Contemplation | Chalice | Nest |
| Horses | Fragments | Fragile Formation | Flowers 1 |
| Flowers 2 | Floating Still-Life | Cat | Unlikely Pair |
Greeting Cards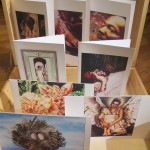 All cards are individually printed on heavyweight, high quality cardstock, 5½ x 8½ inches in size. The items can be sent as notes or greeting cards or framed and hung on walls. Custom inside messages can be printed upon request. The cards are sold separately for $5.50. Each comes with a separate envelop.
Reflection

Cat

Contemplation

MLK

Love Petals 2

Magician

It's Your Day

Horses

Floating Still-Life

Flowers

Flowers 2

Flowers 3
Spring, Summer and Autumn Season Cards (each comes with an envelop)
Winter Season and Holiday Cards (each comes with an envelop)
| | | | |
| --- | --- | --- | --- |
| Blooming Tree | Christmas Ornaments | Snow Doll | Winter Wonderland |
| Unlikely Pair | | | |
Bookmarks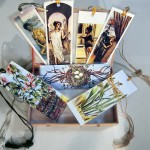 All bookmarks are printed and laminated for durability, 2½ by 6½ inches on average. Tassels come in various colors and give the functional art a nice final touch. The items can be used as bookmarks or hung for decoration. Each bookmark is $6.00
| | | | |
| --- | --- | --- | --- |
| Angel | Rose | Daffodil | Dancer |
| Potted Plant | Vase | Spring | Christmas Ornament |