(Guest Article) Gift Ideas for the Creative Soul by Abby Holt
November 19th, 2019 | Posted by Alaiyo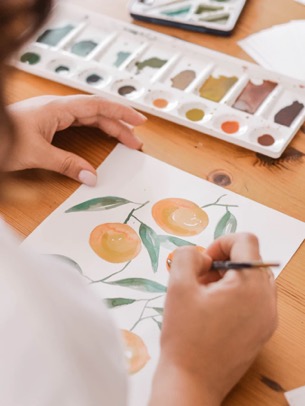 Gift-giving with a creative influence can be a great way to change it up this year. Toys, knick-knacks and gadgets are all good, of course, but what if you're buying something for someone who has a creative edge? Getting them a gift they wholeheartedly would appreciate and utilize shows a lot of care and thought. Why not consider focusing on those kinds of items for your friends and family? Here are some ideas of what you could get them.
A coloring book. What? You're buying for an adult? Well, coloring books have come a long way. There are tons of them out there with beautiful illustrations in them, just asking to be colored. Many of the designs in these adult coloring books are pretty intricate and have a lot of details. That means you're not just coloring in a large space. You're focusing on little shapes and can use a rainbow of colors to complete the masterpiece. Coloring allows you to remain present while putting aside stressful thoughts. Consider not only giving the coloring book as an artistically inspired present, but also a relaxing and meditative activity. With all of the stress in our lives, we can all use a cheerful way to decompress.
Colored pencils and markers. If you happen to be getting your loved one a coloring book, how about something to color with? Colored pencils and markers are great for those coloring books. With the fine details, they help fill in the spaces with ease. If you want to give them a throwback to their youth, get them a box of gel pens, too. Prices for all of these things can vary pretty greatly, but you don't have to spend a ton of money on these gifts. They're all for fun.
Art supplies. If you're buying something for an artist and don't feel like a coloring book is quite right for them, consider what they do creatively. Do they like to draw? What about a sketch pad and some charcoal or graphite pencils? Maybe get them a really nice set of colored pencils. They won't be cheap, but they will be quality and perfect for fine art. If they like to paint, find out if they use oil or acrylic and get them a few tubes or bottles. Paintbrushes are also a great idea. Receiving these items as gifts are always appreciated for the active artist.
Sewing equipment and projects. For the budding sewing enthusiast, you can buy a good sewing machine that will allow them to complete basic projects for beginners, like a pillowcase or hem stitching. If no essential supplies are needed, you can find a plethora of patterns and projects online that are free and affordable. You can also add a few good sewing guides to your gift if your loved one is looking to expand their knowledge of sewing.
Scrapbooking paper, embellishments and tools. If you know someone who loves to scrapbook or is considering getting into it, scrapbook paper and embellishments can be an excellent gift. There are tons of options out there for papers and stickers. Paper comes in single sheets and in tablets and packets. You can pick out a few specialty sheets or a packet of paper with coordinating colors and styles. For the more serious scrapbooker, there are a lot of tools out there you can get them, too. Maybe they don't need paper, but would like some useful punch boards for creating different design, or a hole punch for making confetti. Look into what they have and see if you can add to their collection.
Coloring books, crayons, sewing patterns, paints, and papers—there are a ton of ideas out there for the creative soul in your life. It won't take long to come up with the perfect gift. They'll truly appreciate the thought you put into the gift, and will put it to use in no time at all.