ALAIYO BRADSHAW AND VIDA!
January 3rd, 2017 | Posted by Alaiyo


Pleasant surprise!
Alaiyo received an email with an invitation from VIDA!  VIDA is a global partnership of creators, pairing designers from around the world with makers in Pakistan in accordance with high ethical standards, to create original, beautiful products.  And the best part is that using part of proceeds from the sales of the products; VIDA creates literacy programs for the makers so that they have opportunities to learn reading, writing, and basic math that they would not otherwise have.
Click here to find out more about the VIDA story.
VIDA reached out to Alaiyo to ask if she would provide a few images as designs for some of their products. An incredible opportunity to make her watercolors into wearable, beautiful products, in a sustainable way.
There are now thirty-two products up on the site   When you make your preorder VIDA will custom make the products. (As an extra enticement, when you sign up VIDA is offering 10% off of any preorders — which makes the 100% modal scarves, totes, shirts, pillows, wraps very reasonable.)
A few examples of chosen images and products from the new line:
NIGHT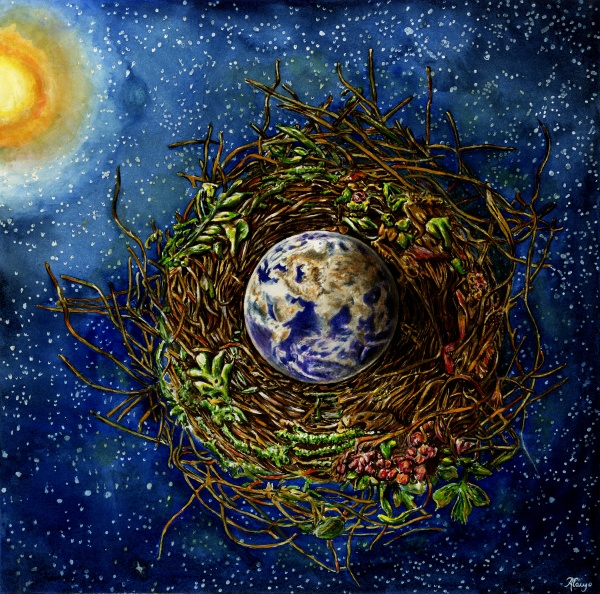 Alaiyo wanted this pillow to capture the shape of the original painting and the feeling of a relaxing experience:  "Night" was created as one in a three-part series of nest images entitled "Mid-Summer, Nights, Dream." The watercolor depicts a nest enveloping our planet in the solar system with the sun shining upon it. This product was the first to sell.
MID-SUMMER
This fantasy painting, showing the fairy in a nest looking up at the world that surrounds her is the first in the triptych entitled "Mid-Summer, Nights, Dream."
TOYS IN A BASKET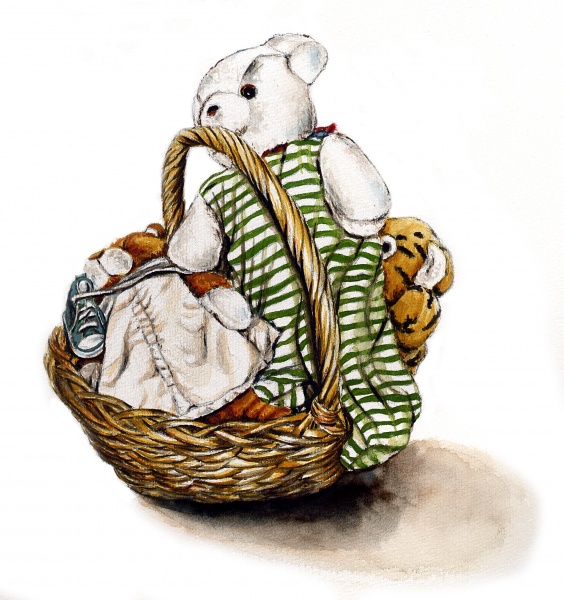 This children's book image is from Felicia's Favorite Story. The watercolor reflects the age of the main character and the belongings she possesses.
Alaiyo is thrilled to introduce this collection to you — just click here to buy any one (or more!) of these items, and don't forget to sign up to get 10% off.  Your purchases will help give back the gift of literacy.
Enjoy!